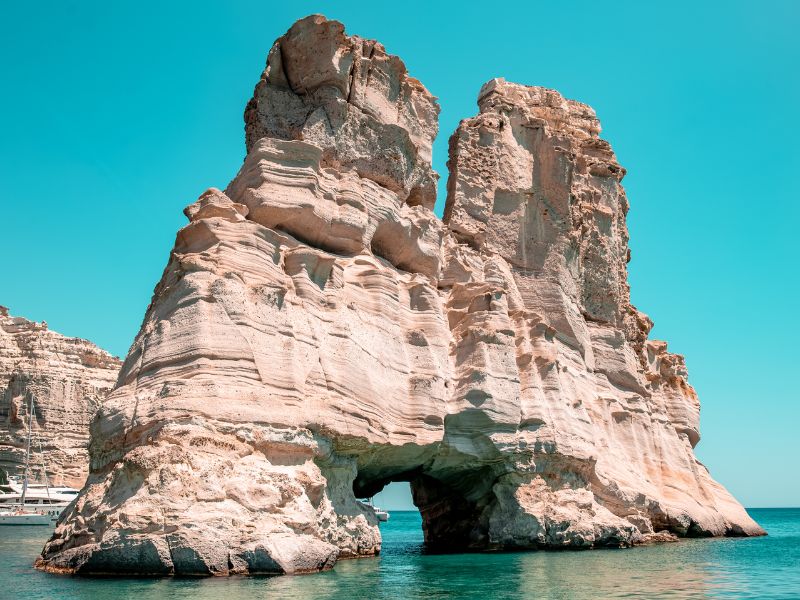 About Milos Island
Milos Island is a picturesque Greek island located in the Aegean Sea. It is part of the Cyclades group of islands and is known for its stunning beaches, crystal-clear waters, and volcanic landscapes. Milos Island has a rich history and was once an important center for mining and trade. Today, it is a popular destination for tourists who are looking for a relaxing and peaceful holiday.
Destinations to Explore by Boat
One of the best ways to explore Milos Island is by boat. There are many destinations that you can visit by boat, and each offers a unique experience. Here are some of the top destinations:
Kleftiko : Kleftiko is a secluded cove that is only accessible by boat. It is known for its crystal-clear waters and the impressive rock formations that rise up from the sea. Kleftiko is a great spot for swimming and snorkeling.
Agios Dimitrios: Agios Dimitrios Bay is a picturesque cove located on the the island of Milos in Greece. The bay features crystal-clear waters and a scenic pebble beach surrounded by rugged cliffs and greenery. Visitors can swim, snorkel or sunbathe on the beach. Agios Dimitrios Bay is a perfect destination for those seeking a secluded and unspoiled beach experience in Milos.
Sykia Cave: The sea cave of Sykia is an impressive natural monument located on the west side of Milos. What makes it unique is that a portion of the roof has fallen, revealing an open spherical top with a glimpse of the blue sky. The cave roof collapsed, most likely as a result of an earthquake. The fall formed a natural skylight, allowing the sun's rays to illuminate the interior of the cave and generate stunning hues.
Kalogries Beach: Kalogries Beach is a small, secluded beach located on the island of Milos Island in Greece. It features crystal-clear turquoise waters and is surrounded by towering cliffs, creating a picturesque and peaceful atmosphere. Accessible only by boat, Kalogries is a popular spot for swimming, sunbathing, and snorkeling. The beach is relatively uncrowded compared to other popular beaches on the island, making it an ideal destination for those seeking a quiet and tranquil escape.